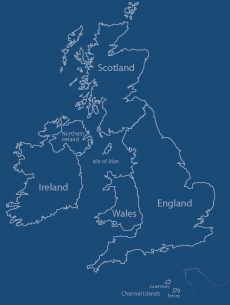 2018 British Institute Instructors
Else Churchill
Else Churchill is the Genealogist at the Society of Genealogists in London with over 30 years of experience as genealogist and educator. She now leads on external liaison, representation and communications, the Society's education and publishing programmes as well as being the Society's subject specialist.
Her main interests lie in the seventeenth century and sources for people who lived through the English Civil Wars and enjoys trying to help American genealogists cross the pond to discover the roots of their colonil ancestors. She particularly encourages students to look for supplementary genealogical sources and >th and 18th century research will be the focus of much of her teaching on the British Institute course at Salt Lake City in 2018. She is looking forward to tackling genealogical problems and giving help and advice at the one to one consultations in the Family History Library and help, of course, to manage expectations of what success is likely in English research.
twitter @SoGGenealogist
---
Alec Tritton
Alec has been a passionate family historian for over 35 years and has built up a wealth of knowledge not just about genealogy but also putting these ancestors in the context of their times. Consequently, he often lectures on such diverse subjects as obscure 19th Century Nonconformist Sects and Grave Robbery before the passing of the 1832 Anatomy Act.
Alec teaches modules on nonconformity and employment sources as part of the online Family History Skills and Strategies (intermediate) course with Pharos Tutors. Alec has extensive lecturing experience, regularly lectures to various organisations throughout the UK, and has features most years (including 2017) at Who Do You Think You Are Live?. Recently he has lectured on cruise ships for Swan Hellenic.
During this week he is looking forward to teaching students about the largely ignored documents in the parish chest, what you can find in Quarter Sessions and about the London burial grounds.
Beryl Evans
Beryl has worked
in various posts, including the resident Genealogical Researcher,
at the National Library of Wales since 1985. Over the years she has contributed, through interviews and research, to many radio and television programmes relating to Welsh family history, including
Coming Home
(ITV),
Who Do You Think You Are?
(BBC) and
Perthyn
(S4C, a series in Welsh on tracing family history). She regularly contributes and writes articles for various family history journals and magazines as well as gives talks on various aspects of Welsh family history and was a regular speaker at
Who Do You Think You Are? Live
show every year. In 2015 she published the book
Tracing Your Welsh Ancestors
.
Paul Milner
Paul Milner, a native of northern England, is an internationally recognized lecturer and author. He speaks regularly at national and international conferences and has taught both English and Scottish research tracks at genealogical institutes (IGHR, SLIG and the British Institute). He is the author of six how-to publications:
Buried Treasures: What's in the English Parish Chest
(UnlockThePast, 2015);
Discover English Census Records
(UnlockThePast, 2014),
Discover English Parish Records
(UnlockThePast, 2014),
Genealogy at a Glance: England Research
(Genealogical Publishing Co, 2011), plus co-author with Linda Jonas of
A Genealogist's Guide to Discovering Your English Ancestors: How to Find and Record your Unique Heritage
(Betterway Books, 2000), and
A Genealogist's Guide to Discovering Your Scottish Ancestors: How to Find and Record your Unique Heritage
(Betterway Books, 2002). Paul focuses on British Isles resources and methodology on his blog at
www.milnergenealogy.com
.
Fintan Mullan
Fintan Mullan is Executive Director of the Ulster Historical Foundation and has been responsible for the management of this successful Belfast-based educational non-profit since 2001. He has extensive experience in Irish family history research and is a regular international speaker on Irish genealogy, having spoken in Ireland, Britain, Australia, New Zealand, Canada and most of the lower 48 states of the USA. He has managed the production of over 100 Irish history and genealogy titles, including the perennial favourite
Researching Scots-Irish Ancestors
. Fintan has ensured the Foundation has been at the forefront of developments in Irish genealogy, including heritage tourism products and the provision of online resources. He helped to pioneer
www.rootsireland.ie
, the unique database with over 20 million Irish historical records. He is a non-executive director of Irish Family History Foundation.
---
Gillian Hunt
Gillian Hunt is Research Officer with the Ulster Historical Foundation and is responsible for the management of the Foundation's many genealogical activities. As well as managing the genealogy side of the Foundation's work, Gillian carries out research for clients and is a hugely experienced user of the General Register Office and the Public Record Office of Northern Ireland. She regularly teaches courses in Northern Ireland and gives talks on family history in the rest of Ireland, the UK, the USA, Canada, Australia and New Zealand. Gillian has been co-presenting at the Foundation's annual North American lecture tours since 2013 and has been with the Ulster Historical Foundation since 2001.