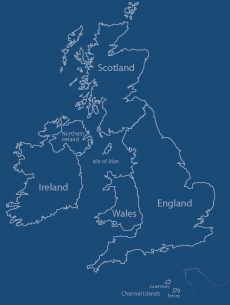 2018 British Institute Courses
---
English Ancestors 17th-20th Centuries: Finding Sources and Resolving Problems
Else Churchill and Alec Tritton
The course will be comprised of 20 topics looking at sources and resources to help discover where in England your ancestors lived and what they did in their lives. It will cover the major genealogical records of church and state and examine common genealogical problems and possible pathways to success.
Suggested prerequisites:
Some idea of when the English ancestor arrived in the USA and even better where they are from.
---
Researching Your Irish and Scots-Irish Ancestors
Fintan Mullan and Gillian Hunt
Searching for Irish ancestors has long been thought difficult but possible. Ranging across a period of 350 years the course will cover all the major sources including church, civil and census records; wills and printed sources. It will examine valuation records and landed estate papers – key documents for discovering ancestors, especially in eighteenth-century Ireland. Other topics will include school, local government and pre-1800 sources. Drawing on interesting and apposite case studies from across the island, we will demonstrate research techniques, emphasizing the plethora of records which are now available online and how and where to access them.
Level:
Beginner to Intermediate
Suggested prerequisites:
Some background knowledge of Irish research or Irish history would be useful but not essential. The course will benefit beginners as well as those with some experience.
---
Tracing Your Welsh Ancestors
The main aim of the course is to identify the various sources available in researching Welsh ancestors, explaining where to find the records and how to gain access – archives offices and/or online. We will examine to interpret the information found in the records and use it to assist with further research. Mainly the eighteenth and nineteenth-century will be covered, but some records may extend to periods before and after. Types of records covered will include:

church and nonconformist records, civil registration, census, probate, maps, newspapers, estate and manorial, and Court of Great Sessions.
Suggested prerequisites:
Some basic knowledge of methodology and terminology for family history research would be advantageous. Knowing the county, parish, town, village where your ancestors are from would also be good.
---
Scottish Research: The Fundamentals and Beyond
Scottish laws, regulations and records are different than those for the rest of the British Isles, and certainly different than for the United States. Yet there are enough similarities to create confusion for the unwary. In this course we will address the fundamentals of all the major record groups, examining where to find and how to search the indexes and exploring what is and is not available online. Case studies will highlight the research and record evaluation processes to determine next steps. The course, which is for both beginners and experienced researchers, will cover the commonly used records such as: civil registration; census; church records; maps and gazetteers; inheritance; military; emigration; occupation; burghs; plus, less utilized records from the 17th through the 20th century, closing with how to plan your research trip to Scotland. Individual consultations are available to assist each participant in their personal research.
Level: Beginner,
Intermediate and Advanced
Time Period:
Medieval to the Present
Suggested prerequisites:
None