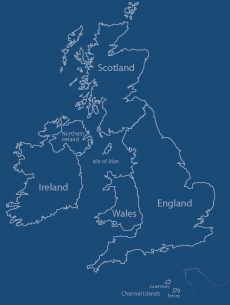 Notes on ISBGFH Surname Research
The surnames in this database are those submitted by members of the International Society for British Genealogy and Family History (ISBGFH). We invite anyone to make inquiries about any surname in the database.
Here are some notes about how the procedure works:
You can enter as few characters of a surname as you would like, but (a) you must start at the beginning of the name, and (b) you will get matches of just those surnames which begin with those characters; then click on the spyglass icon to start the search

Apostrophes are treated just like letters in a search; "or" will not match "O'Reilly" but "o'r" will

You can use "wild cards" in your searches;

"

%

"

represents any number of characters, while

"

_

"

represents exactly one character. These wild cards can be at the beginning or in the middle of the search string, For example, searching for "%ar" will find Archer, Barker, Carr, and Dewar; searching for "m%ne" will find McNevin and Milne

Members were encouraged to enter separate entries for each possible spelling of a surname, but they could instead enter an "alternate spelling"; thus setting "Also Search Alternate Spellings:" to "Yes" is usually a good idea

Clicking on the eye icon ("View Details") will usually not reveal any additional information, unless the member provided some alternate surname spellings

Clicking on the envelope icon will initiate a surname inquiry e-mail to the member who submitted the surname of mutual interest; the member will immediately see your e-mail address; you will then learn the member's e-mail address if they choose to respond to your query

Software-mediated searches are only provided for surnames; if you want to search for entries from a particular location, first set the "Results Per Page" to the highest possible value and do a "search" with the search field empty, then use your browser's find function on each page of results to search for the location of interest

The order of entries in the table is initially alphabetical by surname; if you click on any other column heading, that column will control the order of the entries

Use of the terms Country and County may not be technically correct in all cases, but we feel their use is understandable in all cases

ISBGFH members can now enter their own surname interest data by logging in to the ISBGFH website, selecting the Members Area, then the Profile menu item, then the Surnames portion of their profile, then finally clicking on the "plus sign in a box" icon on the right side of the screen.